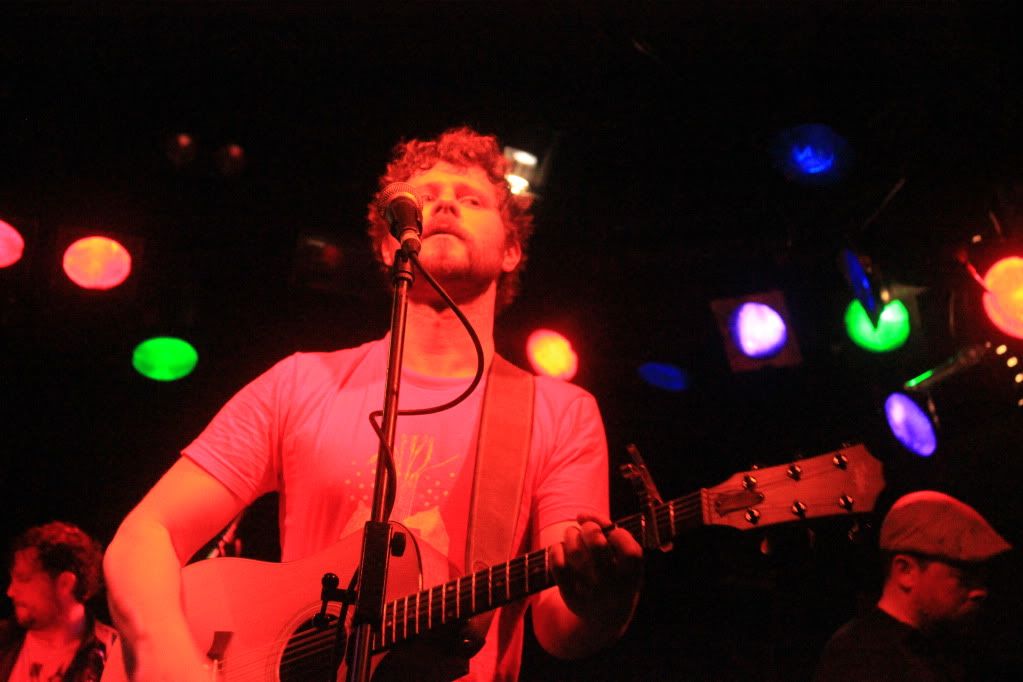 Death is coming for us. It is a metal vehicle, an airplane, a car, a train. It is cholesterol and mutations of the body, uncontrolled cell growth or something rarer. Death is a discharge of atmospheric electricity and it is a funnel cloud and it is the rubbing of earthen plates, the opening of fishers to the deep, the crash of a wave that threatens our tallest buildings. Death can be small or paramount, its approach can be known or hidden but death is coming for us.
It is this finite quality of life that haunts many human beings, tethering them to a mundane type of life. Death will stay fast with its endeavor despite our fears and belief in safety and it is this truth that seems to have sparked the call-to-arms that is Dan Mangan's third and newest record Oh Fortune.
Oh Fortune examines the human routine while urging listeners to ask plenty of questions. It's a fascinating challenge and one that is best tackled while ingesting the entire album in one sitting without distraction. So, on a journey that was the sum of a five hour flight and ten hour lay over in LA, a nine hour flight and four day stop in Fiji and a four hour flight over to Gold Coast, Australia I had time to sit with Dan's back catalog a few times leading into a session of several repeat listens to the newest album.
In Byron Bay, New South Wales at the Great Northern Hotel I sat down with Dan before his show. Dan and the band are half way through their Australian leg. I'd met Dan four years previous at a free show at my hometown university. Dan's demeanor and friendliness have not diminished in the slightest. There's a little bit of tired in his eyes but the man's loaded up a staggering collection of travel miles touring three albums for nearly seven years. But with all of the progress and all of the opening doors what causes a 28 year old to explore an album's worth of material on dying and how it is happening to all of us?
EN: Byron is a great choice for a performance. The music you make seems right at home with the culture and lifestyle here.
DM: Ya it's gorgeous here. There's a lot of young open minds here.
EN: Anyone who's dived into your lyrics knows that you've written pretty heavily from experience. I'd imagine it is easy to be wide eyed for the first few years of touring and that the pool of material to write about would be vast but it has to get a little monotonous after seven years.
DM: That's part of the battle. There is a struggle but if you maintain an open mind there is clearly an endless bank of things to write about. It's easy to keep your head down from venue to venue but the nice thing about being a musician is it is a nice excuse to go meet people.
EN: Is that where some of the viewpoints came from on Oh Fortune?
DM: Definitely. I've become really interested in exploring the stories of people in those out-of-the-way towns. I mean, the nice part about traveling to the bigger cities is that as a musician everyone wants to show you the little things that make the place they live special; the pubs that only locals know about and the other treasures that every city has. But there's something really interesting about the people between the big cities. We're driving for ten hours between gigs sometimes and we stop at a gas station and I wonder what has happened during the attendant's life.
EN: With that kind of resource to pull from are you constantly writing?
DM:Well I am but I write really slowly. I'd prefer it that way as opposed to churning out songs by the week or whatever. I like to wait for the right one to come along. Lately those are the stories that interest me. Of course I have my own bias to how those people's lives have gone but it is liberating to explore life from other viewpoints.
EN: I've read a lot of other interviews with you about Oh Fortune and everyone seems to be making a big deal about the themes of death on the record calling it somber and dark. When I listened to it what stuck out the most was the message against complacency and falling prey to a mundane lifestyle. If anything it was pretty uplifting!
DM: Ya! I think you're right on, you're getting it. Death is sad but if anything else it is a really good reason to go out and do something. We know that it is coming but we don't know when. That's a really good reason not to be complacent.
And when Dan and I start to talk about our impending doom he gets very excited and that little bit of tired from his eyes drifts away. Dan is very authentic. From his greetings to his thank yous to his lyrics and his beer time with band mates and fans after the show Dan truly embraces the notion of experiencing life to its fullest and being grateful for this existence. Although that's almost impossible to translate via the written word I implore you to get to a show and introduce yourself to Dan after the set. You'll push your way through a thick female fan base but once that disperses you'll do cheers with your beer and probably have one of those conversations that usually happen after 3am when ideas float freely.
EN: With the amount of traveling you've done it might seem hard for people to understand how that might become complacent. There are a lot of people who rely on travel as their means of experiencing something but there are so many ways to add a little spontaneity in your life.
DM: Exactly and I'm not saying travel has to be the way. For me I'm lucky because I've chosen to make music and share it and that involves going around the world but even for musicians that becomes a job. A lot of people associate the word job with routine. I'm more motivated to find a balance between having loving relationships with the important people in my life while continuing to find a way to branch out.
EN: That's interesting because the way your albums play out, it's almost like you've been working towards this message from the beginning. You've got a trilogy that seemingly chronicles a bedroom artist with a jaded view (Postcards and Daydreaming) to a wide-eyed traveler (Nice, Nice, Very Nice) to someone who's maturity has led them to question the big things (Oh Fortune).
DM: I think you stumbled upon something here that's very true because it's my life. As a teenager full of ideas I started writing those songs from Postcards but maybe I didn't really have a clue. Nice, Nice was me getting out on the road. All of that time brought me to a place where I would do a lot of thinking. There was a lot of alone time and I pondered things from new perspectives which then became the songs that are on Oh Fortune.
Something that people forget is that an album is often a snapshot of past ideas given to listeners for present experiences. What we might connect with now is the collected thoughts, ideas and revelations of the artist over the years it took to make that album. So when Nice, Nice came out for us Dan had already been on the road for years and had come to terms with it. The gears were already turning, the cogs moving towards new realizations and grander questions.
DM: We all look back and say 'wow, when I was 18 I was an idiot' but of course we didn't think that when we were 18. The only tragedy is not learning from it. We're all going to have something regretful and something beautiful and something exciting but if we aren't learning from each experience that's sad…letting it pass by.
EN: That's the saddest thing. We have these years filled with so many opportunities to progress and understand but some just let those experiences fall away. They get old and they get sad.
DM: Right and getting old shouldn't be a sad thing if you've lived your life! Most 50 year-olds who've lived a full life are content to be 50. They don't approach that age with dread.  If you took advantage of the chances and the unknowns you'll be content when you're old. You'll be able to say 'yes I did that and I'm done with it, I got it out of my system. I'm happy to take it easy now.' I'm not claiming to be a master of it but I hope that I'm doing my best to fill my life with love and interaction.
Dan Mangan has always had wide eyes. The way he questions and takes in situations and behaviours is noticeable early on in his songs. Coming to terms with that has allowed him to see through a lens that filters out force fed perspectives and answers (have a listen to "Unnatural Progression" from Dan's first album Postcards and Daydreaming). Aside from the beautiful and inspired instrumental arrangements Dan and his band have developed, his songwriting thrives on lyrics that are bountiful, heavy and insightful.
EN: Oh Fortune is a definite shift towards maturity not even from a song structure stand point but from the content. Where Postcards and Nice, Nice were chronicles Oh Fortune is a little more abstract. You ask a lot of questions and challenge the listener to do the same but you don't necessarily provide any answers.
DM: I think that happened naturally. There's the song "Jeopardy" which is all questions and it was really purposeful to end the album on that note. In a sense you'd think it would be best to ask the questions at the beginning and have the answers by the end of the record but I believe there are no certain answers. That's where I wanted to leave people. That was kind of a got launch pad for listeners to start finding their own answers to the questions.
EN: That's interesting and when you think about it that's a really honest way to approach the themes in the record. How hard was it not to include another couple tracks that might offer up your responses to "Jeopardy"?
DM: I'm a very opinionated person but I know that so leaving things open ended was a bit easier for me. The answers I've come up with are not final answers and I know that. I don't think anyone can claim to know all of the whys but sometimes people will cling to an answer, they'll defend it without question or reason because they are scared. I didn't want to come across that way.
EN: Anyone who sits with the record in its entirety will surely appreciate that.
DM: Thanks! I hope so. Certainty is a dangerous thing. All of the big questions will remain big questions. Sadly there are masses of people latching onto something that is tangible to them without being willing to change their opinion or idea. Getting imbedded into something you're sure of without keeping your doors open is scary. I'd rather remain a fool and not have any answers than be so narrow minded as to defend and offer up my beliefs without discussion.
When Dan says something like this is seems so logical. Perhaps the only truth is that you're best bet for achieving insight is to wait until the end. After the show I'm left walking through an unknown town so far from home at 1am. And anything could happen. I could have died at that moment wondering if I'd done my best. At that moment under the expanding morning sky I was comforted. The only thing I was certain of was uncertainty and it was comforting to know that there's some background music for that beautiful unknowing.
Oh Fortune is an album that burrows into your thoughts and grows like a crystal. The layers provide understanding and further investigation and in that respect Dan Mangan and his band deserve the utmost amount of kudos for giving us a record that is honest in its attempt to inspire.
Dan is playing a showcase tonight at the Horseshoe Tavern in Toronto and was just named to the Osheaga festival in Montreal in August.

ourlifeisnotamovie reblogged this from extremenonchalance and added:

Très très bonne interview de