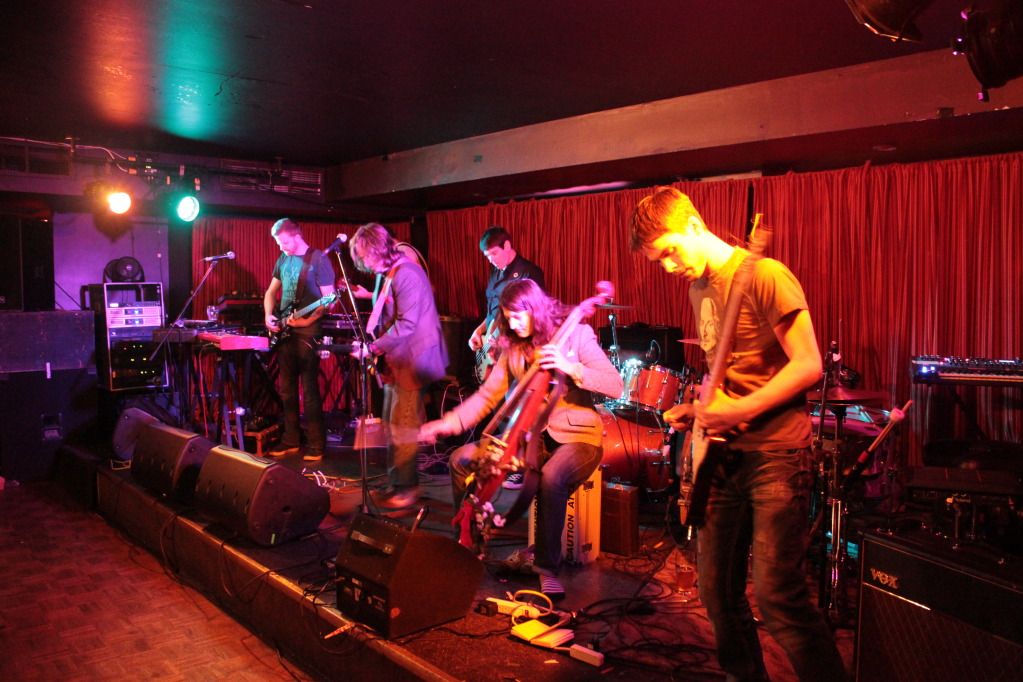 Preface
Perhaps the most important part of this story is that The Rest captured their White Whale. Today their album SEESAW has been released world wide. Yes, the album is grand, emotional and gorgeous. In this case, the journey is nearly as important as the destination. Here's a link to an album that should be celebrated not just by the band but by all who hear it, not only for its own merits but for the ceaseless drive of the band members to create and share it.
Part I
This is not a pash piece. The Rest are feverishly fascinating, wildly engaging and thoroughly unique. Yes, this piece will be primed and coated with layers of acclaim but only because I truly believe in what The Rest have accomplished. Mark my words; I have no interest other than to embrace and share good music. When said music originates from my hometown I count myself as one of the lucky ones. When a band can bring me back to six shows in under a year without a changing set list and leave me stunned each time I know that something must be done. When a band have achieved the equivalent of capturing a unicorn with their new album SEESAW then go on to tame, train and practically win the Triple Crown with it, I, as a music enthusiast have no choice but to fully explore the team responsible for such a victory. Praise must be proclaimed in the streets. It must rain down on world wide music blogs like meteors, leaving small craters in the code. Praise must be realized in ever growing groups until the cities sing the choruses at every show. Once again I must confirm that this is not a pash piece. All of this is true. This is an account of a movement ready to become a grand success.
Almost a year ago today I sat down with Adam Bentley, lead singer of The Rest in the green room at Horseshoe Tavern. It was my first in-venue interview. The place is heralded as legendary and I was unfocused, nervous, green as the room I was to meet Adam in. The weight of the night was stacked against me. I was covering Dark Mean's CD release party for which The Rest were opening, along with reuniting with a girl I had lost years earlier with dire hopes that we could pick up almost exactly where we left off (minus the immaturity and silly decisions that led me to ruin things in the first place). On top of that I knew very little about The Rest. I knew that they had a heap of musicians in their band, they hailed from my home town, and they could fashion a pretty dandy indie rock tune.
After an intimidating introduction that found me standing at the edge of a booth containing upwards of ten people, seven of which were band members, Adam and I agreed to meet in the green room about half an hour later. I went and had a beer. I had that beer quickly and read questions I was sure were outside the norm. I wanted to impress and engage. And then I made my way into the basement of Horseshoe and found Adam sitting calmly on a couch in the green room, one foot up on a knee waving me in. In that moment I learned something crucial about Adam and The Rest. They are confident.
Our discussion bypassed introductory awkwardness. What surprised me most was that he'd done his homework. He knew all about my blog, hell he'd even read an article I wrote on another local artist. Soon I realized Adam had been quite involved in what I was trying to do. His work with Auteur Research had opened my eyes to a few hometown bands that were making some wonderful noise, all via email with no names attached.
All of the questions I prepared to ask fell to the wayside as I spent some time getting to know The Rest. The basics are that the seven-piece were friends first which, in band terms, generally means a solid debut album follow by furious bouts of "creative differences" and the obliteration of the band. Not so with The Rest.
EN: What's the dynamic like? That's kind of a typical "big band" question but does it ever become a task just for everyone to have their voice heard?
AB: I don't think so. It works out pretty well. I mean we've been at this for a while now and we're ready to release our third album together. We know how to play together. The Rest is the first band I've ever played guitar in so everything I've developed has been with these people. I wouldn't say I'm the best guitar player but I've learned to make an impact in a song. Then we have someone like Anna (Jarvis, cello) who has trained musical instruction and is just incredibly talented. Having that structured component meshes really well with what we're trying to create.
During that answer Adam grazes the subject of SEESAW (the eventual title of their at-the-time pending third album). The way he mentions it seems so casual. There's nary an indication that I'm about to be pulled along this black-hole journey that The Rest were only some four months into.
EN: So you're working on a new album. How's that coming along?
Adam's shoulders sunk ever so slightly.
AB: This is secretly killing me. The album has been done for four months and has been completely lost.
When I prod a little further it seems like hope for recovering the album is minimal at best.
AB: We lost everything on the hard drive. When people say they lost a hard drive it usually doesn't mean gone…forever. But that's what this seems like. We've been exploring recovery options and maybe have something lined up now.
EN: So what now? Back to the studio to re-track or do you have a new batch of songs?
And although Adam has a defeated posture nothing in his voice hints at failure. In fact, there's a bit of wild nonchalance as if to say "challenge accepted."
AB: We've worked so hard at this, driven by the passing of our producer and one of my best friends Dan Achen and we know that these songs have to be released.  It is a must. We'll wait this out and find a way for these songs to be heard. Even though Dan is gone we still very much hear his voice. We'll be producing the album on our own with the help of Jordan (Mitchell, a multi-instrumentalist and electronics guru in the band) but Dan is our executive producer.
Dan produced both of The Rest's previous LPs out of a converted church (Catherine North Studios). In a later meeting Adam will speak more openly about Dan, his influence and how much it meant to have a friend like him. Here, though, in the green room at Horseshoe Adam continues to detail that early technical nightmare the keeps their newest album out of reach.
AB: It's frustrating because we've all really poured a lot into this album. It's ready and we're ready. Tonight we're going to be playing a lot of songs off it and we want the reaction to fuel us. That's hard when we don't know when we're actually going to be able to release this thing.
An hour later when The Rest populate the Horseshoe's stage I become a believer. That's that. I'm convinced, no, I'm in complete, unadulterated agreement. I barely know Adam but the complete lack of waver in his voice confirms that this album must reach ears. If our above conversation seems brief that's because it was. For as much as Adam and I talked about The Rest we also talked about our hometown, tangential projects and so on. It was high speed dialogue, unscripted but fluent and completely devoid of any campaign on Adam's part to have me paint The Rest in any sort of light…strictly honesty.
Those I've brought to the show exchange looks of reverence. Seriously. They're shocked as am I that we've been oblivious to The Rest, a band I instantly recognize as a hometown treasure and independent powerhouse. Everyone around me feels this power. We sway and jive and shake to this gift. We yearn for more when all is over but our ears will go hungry for quite sometime.